Back to staff directory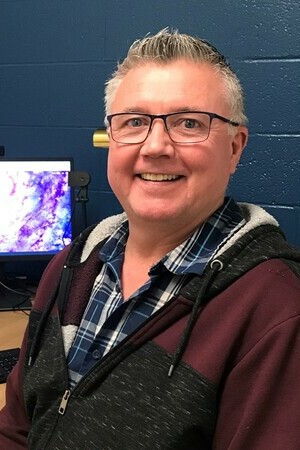 Math / Science
Phone: 780-853-2111
Let me introduce myself, my name is Marty Person and I recently joined the Online and Outreach schools. Back in January, I was very excited to see the posting for the need of a science and math teacher here and was even more pleased that BTPS gave me the opportunity to transition midyear.
I started my teaching career in Lloydminster and have been working in Buffalo Trail Schools ever since. Over the years I have taught a variety of different subjects and a wide range of age groups. I have especially enjoyed the jr./sr. high grades; I guess they get my crazy sense of humor!
I live in Marwayne where my wife (Kym) and I have been for the last 20 years. Our three children have all grown and are doing a variety of things from farming, university studies to working retail. An exciting part of family life is the new addition of a grandchild, Braxston. He is a one year old now and not a day goes by that he is not entertaining us to the fullest. On our down time from school we spend time at the lake, camping or traveling when we can.
I look forward to meeting and spending time with all my new students, whether it be in person or virtual.
This transition has been challenging, yet rewarding and I have appreciated everyone's patience both students and staff in helping me make it a great start to this new path here at this school.