Back to staff directory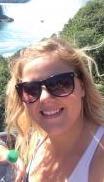 My name is Mrs. Nichols. I have been with the division since graduating from the University of Alberta in 2010. I have had the amazing opportunity to be part of the wonderful staff Dewberry since 2015. I am the resident Science Nerd, love all things to do with the subject, I can be found "geeking out" in the science lab or spiking volleyballs in the gym. I believe that school provides us more than just the content that we are taught but the skills to problem solve, use our resources, perseverance and creating wonder in the world around us. To me, "Working together for Success" means as a whole, staff, students and the community are working together in providing opporutinities for our students to be successful in their studies and their life after school.
My current teaching assignment for Dewberry School is Science 7-10, Bio 20/30 and CTF 7-9. I also coach the Jr girls Volleyball team. For Students Online, I am responsible for Sr Sciences and some Recreation courses.
Hope to see your wondering minds in my classroom!